Mailing Tips and Guidelines
Packing
Pack your items securely, use plenty of tape, and place a label with your shipping address and return address inside your package in case it becomes damaged in shipping.
Be sure to insure valuable items.
Claims should be made at the originating shipping office. Because we are a Contract Postal Unit, claims cannot be made at this location. To place a claim, the Shipping Services require a receipt or documentation of the item's value.
Advice for Incoming Students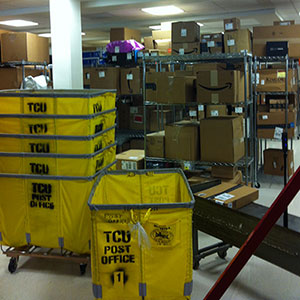 If you have rented a TCU Box, you may begin shipping to your TCU Box as soon as you have your address.
If you have requested a TCU Box and have registered for classes, but have not received your TCU Box number, please contact us at tcumailboxes@tcu.edu or 817-257-7840 to resolve.
Once received, your packages will be placed in a secure location at the TCU Post Office. Students will receive notification through their TCU email once items are ready for pick up. Please have your Student ID or Student ID number along with a photo ID to pick up packages.
We will have carts available for you to borrow to transport your boxes to your car, dorm or residence hall.
Depending upon availability, staff may be able to help you.